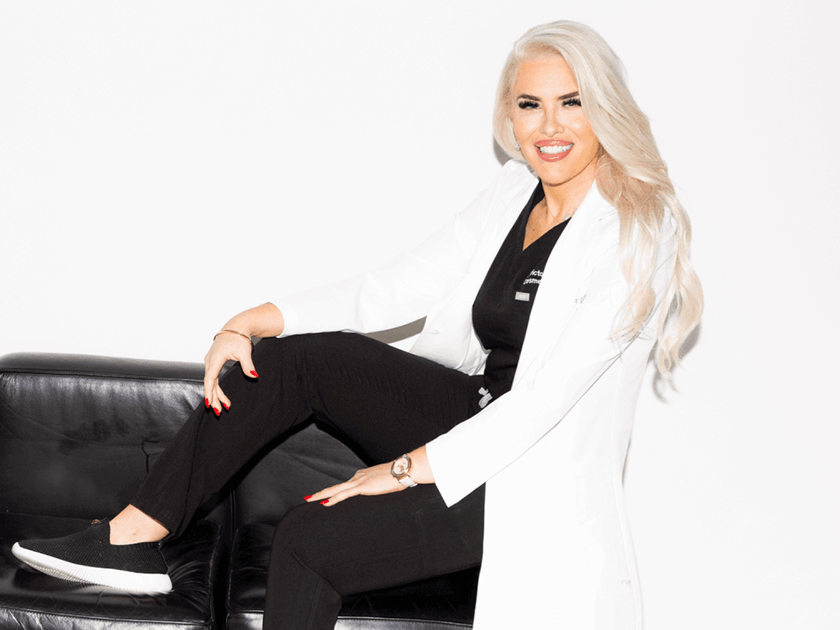 As an experienced general and cosmetic dentist, Dr. Victoria Veytsman leads the dental team at Cosmetic Dental Studios in Beverly Hills, CA. Offering cosmetic and preventive dental care since 2005, Dr. Veytsman believes a healthy mouth is the foundation of a beautiful smile for her patients of all ages. Dr. Veytsman is state-licensed to practice dentistry in New York and California and is certified by the Commission on Dental Competency Assessments (formerly known as The North East Regional Board). As a very respected and sought-after dentist, Dr. Veytsman has become known for her smile makeovers and as the official dentist to several prominent organizations. With a dedication to her patients, she works to provide the best possible treatment options through innovative, personalized cosmetic dentistry procedures.
Offering both functional and aesthetic results at Cosmetic Dental Studios Beverly Hills, Dr. Veytsman hopes her patients look forward to their visit to her office. With a notable reputation for creating beautifully restored smiles, she offers porcelain veneers, bridal makeovers, smile makeovers, and dentofacial lifts at her Beverly Hills facility. Through comfortable, personalized treatments, she can help patients receive a smile that they can feel confident about.
At the age of 16 at Fairleigh Dickinson University in New Jersey, Dr. Veytsman began her dental education early by starting college. She graduated cum laude from a six-year program with a Bachelor of Science in biology and a Doctorate of Dental Surgery in dentistry at New York University College of Dentistry as the school's youngest graduate at age 22. Dr. Veytsman studied general dentistry and performed externships in oral and maxillofacial surgery at Mount Sinai, Bellevue, and Montefiore.
Working diligently for a year as a general practice resident at Mount Sinai, St. Luke's, and Roosevelt through the Columbia College of Physicians and Surgeons, Dr. Veytsman obtained skills in operative dentistry, endodontics, periodontal surgery, oral surgery, fixed and removable dentistry with rotations in oral surgery, pediatric dentistry, emergency medicine, and general anesthesia. Returning to New York University for their implant fellowship, she studied and practiced surgical and prosthetic treatments, case selections, and comprehensive treatment planning. Additionally, Dr. Veytsman has participated in a variety of well-known aesthetic continuing education programs and fellowships in cosmetic dentistry, smile makeovers, and full-mouth rehabilitation.
For her skill and expertise, Dr. Veytsman has been working with a number of affiliated organizations to provide cosmetic dentistry, including:
The Miss America Organization
The Miss NY USA Organization
The Miss NY America Organization
The Miss Latina NY Organization
The New York Giants Cheerleaders
Memberships and Societies
Dr. Veytsman is an active member and leader of several dental organizations, such as:
The American Dental Association
The American Academy of Cosmetic Dentistry
The American Academy of General Dentistry
The Academy of Comprehensive Esthetics
Additionally, she is a member of numerous international dental organizations, including the International Congress of Oral Implantologists, Crown Council, International Academy for Dental Facial Esthetics, and Royal Society of Medicine (UK).
Dr. Veytsman has participated and conducted innovative research for the medical field, including:
Department of Histology: Fairleigh Dickinson University: Understanding the difference in the distribution of crystalline and non-crystalline protein within the normal and cataract lens.
Department of Biochemistry: Fairleigh Dickinson University: Biosensors for Glutamate and Glutamine Analysis: Exploring the development of miniaturized enzyme electrodes as an avenue for in vivo measurement of metabolites.
Along with her team at Cosmetic Dental Studios Beverly Hills, Dr. Veytsman is involved with many charities, including:
The Smile Train
The Bowery Mission
Urban Tech
The Robin Hood Foundation
The National Hemophilia Foundation
Reviews
"I recently got veneers, and could not be more pleased with how they turned out!!!! Dr. Veytsman and her team were sooooo nice and extremely accommodating to my very tight timeline. They always made sure I was well taken care of and completely happy. I am more confident with my smile and no one can ever notice that they are veneers as they look so natural. Dr. Veytsman is amazing at what she does!!!!"
IB
Office Visit
"Very friendly, professional, helpful staff! Jessica answered all my questions and explained everything in detail. Dr. V could not have been nicer and I felt confident in her expertise ! Can't wait to begin !"
E.C.
Google
"The customer service was second to none !!!"
S.A.
Google
"Amazing work!! Very affordable and reliable. Keep up the great work."
T.C.
Google
Related Posts